New resolution on the progress of Parliamentary Assembly's monitoring procedure is adopted
By Ana Robakidze
Thursday, October 3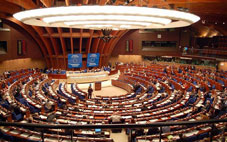 The Parliamentary Assembly of the Council of Europe voted and adopted a new resolution on the progress of the assembly's monitoring procedure. The document represents the annual progress report. The Monitoring Committee has given an account of its activities since June 2012 and assesses how far the 10 countries under the assembly's full monitoring procedure (Albania, Armenia, Azerbaijan, Bosnia and Herzegovina, Georgia, the Republic of Moldova, Montenegro, the Russian Federation, Serbia and Ukraine), as well as the four countries engaged in a post-monitoring dialogue (Bulgaria, Monaco, "the former Yugoslav Republic of Macedonia" and Turkey), are fulfilling their Council of Europe obligations and commitments.
Apart from the progress assessment, the committee addresses specific recommendations to each state for better future progress in fulfilling their obligations and commitments.
The assembly expressed its satisfaction on some positive developments in a number of countries including Georgia. The resolution says that the "peaceful constitutional transfer of power and the emergence of a genuine pluralistic and democratic framework following the 2012 parliamentary elections is highly welcomed. However, there are a number of issues that the assembly is still concerned about, particularly regarding "the difficult cohabitation and a number of arrests of leading members of the opposition and, more generally, the independence of the judiciary and the administration of justice." The Assembly also gives some recommendations to the Georgian government and calls on it "to ensure that the legal proceedings against former government officials, including the former Prime Minister, the former Minister of Health and the former Minister of Defence, are conducted transparently and in full compliance with Georgia's obligations under Articles 5 and 6 of the European Convention on Human Rights. "
The resolution also touches upon the Georgia-Russian conflict and urges Russian federation to start implementation of those three resolutions on the consequences of the August war, the assembly adopted in 2008-2009.
Though the assembly once again reaffirmed its intention to closely follow developments with regard to the consequences of the August War and engage in a dialogue with the de facto governments in Abkhazia and South Ossetia. The assembly says it is important to see signals that such a wish for dialogue exists and talks should take place over status-related preconditions.
83 MPs voted in favor and 31 against the resolution, based on the fact-finding missions committee reporters carried out in the countries. Representatives of the Georgian parliamentary majority had stated before that the voting that some facts provided in the resolution were inaccurate and the document had to be rejected. Georgian MP Tina Khidasheli said after the assembly session that it is wrong to say that the Georgian government failed to conduct legal proceedings against former government officials transparently and in full compliance with Articles 5 and 6 of the European Convention on Human Rights, as the legal proceedings are still underway and the court still has to voice its final decision.