ICC Georgia meets the UNM presidential candidate
Monday, October 7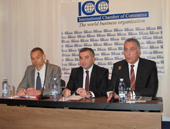 The International Chamber of Commerce of Georgia( ICC Georgia) followed its tradition by getting involved in the discussion of the future of Georgia's economy and business. Last Friday, members of ICC Georgia met the presidential candidate of the United National Movement (UNM), Davit Bakradze.
Bakradze informed the audience about his plans in the case of his victory in the presidential race, as well as the plans on how his party is going to recover. Bakradze mentioned the mistakes UNM committed. He also used the opportunity to criticize the current government.
Together with the Delegation of the European Union in Georgia, ICC Georgia will be holding a series of roundtables with the main Presidential Candidates throughout October.