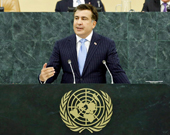 "[It is] a shameful Iron Curtain that is dividing our country, our communities, our people..." President Mikheil Saakashvili said.
(more)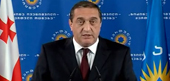 "No matter who replaces Prime Minister Bidzina Ivanishvili, it will be very hard for him to lead the coalition," was the quoted statement made by the leader of the parliamentary majority Davit Saganelidze, on October 10.
(more)
"Rasmussen condemns Russia building fences near Tskhinvali's administrative boundary line"
(more)