Russian market opens for Georgian fruit and vegetables
Tuesday, October 15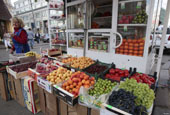 The Russian market is open for Georgian fruit and vegetables from Monday. The statement made by the national agency of food says that from October 14, restrictions will be lifted on the export of fruit to Russia. These include nuts, grapes, apples, pears, quince, citrus and some others.
Head of the agency Zurab Chekurashvili visited Russia on October 10, where he met with the head of the Federal Service of Russia's Veterinary and Phyto-Sanitary Control, Sergey Dankvert.
After a 7 year hiatus, export of Georgian products to Russia will resume. The Georgian National Food Agency explains that the long process of negotiations preceded the decision.
Russian specialists visited Georgia August 15-21. Meetings were held at the Ministry of Agriculture of Georgia; they observed citrus factories, fruit and nuts, and the technical details of phyto-sanitary certification. Low-risk product (tea, and dried fruit etc) are allowed in Russia from June 28, 2013.
(InterPressNews)