NATO Defense Ministerial
Thursday, October 24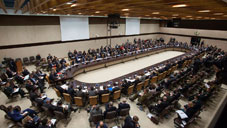 Minister of Defense of Georgia Irakli Alasania pays an official visit to Brussels to take part in a NATO Defense Ministerial in Brussels. On October 22-23, NATO HQ is hosting Defense Ministers from NATO member and partner nations. During a two-day ministerial, the Defense Ministers will discuss ways to bolster and improve the training, education and exercises of allied forces.
On October 23, NATO Defense Ministers met with their ISAF partners and their Afghan counterparts to discuss progress in Afghanistan. NATO Secretary General Anders Fogh Rasmussen opened the meeting of the NATO Defense Ministers with non-NATO ISAF Contributing Nations. In his opening remarks, Secretary General focused on transition issues and plans after 2014. "This past June, Afghan soldiers and police took the lead for security across Afghanistan… We can be confident in their ability to assume responsibility for securing their own country at the end of next year. At that time, our transition will be completed as planned. But we remain committed to Afghanistan's stability. And today we will take forward the planning for a new mission to train, advise and assist the Afghan security forces after 2014… Over the past ten years, we have come a long way. But there is more to do to reach our shared goal, which is an Afghanistan that delivers stability to its people, and that enables security abroad. Together, the men and women of our NATO forces, those of our ISAF partners, and of the Afghan National Security Forces, have all made a considerable investment in the future of Afghanistan. And we must build on that investment together."
Minister of Defense of Georgia Irakli Alasania delivered a speech at the meeting. He focused on the importance of the mission and Georgia's role in the post-ISAF period. The minister said that the government of Georgia is determined to continue engagement in Afghanistan after 2014. In addition, Georgia is adherent to its proposal in support of a secure and stable transit to and from Afghanistan through Georgia.
After the meeting, Alasania summarized the results of the visit. "Our delegation focused on Georgia's participation in the post-ISAF operation. I introduced our vision of Georgia's involvement in the mission to my foreign colleagues. On the sidelines of the Defense ministerial I held several meetings with our partners. We discussed the ongoing reforms in the Georgian Armed Forces and achieved progress. Implementation of the reforms is essential for Georgia to come closer to NATO. Members of our armed forces are performing their duties professionally and their efforts are appreciated by everyone. Georgia is perceived as one of the strongest and credible partners. Now Georgia needs to be politically and economically ready and when the historical opportunity opens for us, Georgia will become a member of NATO. This is only a matter of time as NATO has already taken a decision regarding Georgia's membership."
During his press conference, the Secretary General also outlined that the NATO's decision with regard to Georgia still stands. "Georgia will become a member of NATO provided they fulfill all criteria and I am pleased that the new government of Georgia has reaffirmed Georgia's NATO aspiration. So we are working together with Georgia within the NATO-Georgia Commission to promote the necessary reforms," said Anders Fogh Rasmussen.