Polish and Swedish foreign ministers back Georgia before the Vilnius Summit
By Ana Robakidze
Thursday, October 24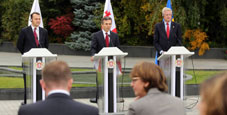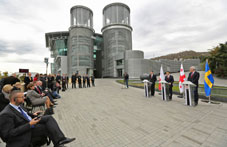 The foreign ministers of Sweden and Poland are paying an official visit to Georgia, as a part of their tour covering visits to Moldova and Ukraine. Carl Bildt and Radoslaw Sikorski arrived in Tbilisi on October 21st to study the situation in the country before the Vilnius Summit of the Eastern Partnership of the European Union.
The Foreign Ministers, who were initiators of the Eastern Partnership in 2009 met with the President Mikheil Saakashvili and Prime Minister Bidzina Ivanishvili to discuss the progress of Georgia's integration with the EU. According the Swedish Foreign Ministry the "trip is taking place during a critical phase ahead of the summit between the EU and the Eastern Partnership in Vilnius at the end of November. There it is hoped that it will be possible to conclude or make progress on a number of agreements between the EU and some of the partnership countries."
PM Ivanishvili stated at the meeting with the Foreign Ministers that the visit reaffirms the strong support of Sweden and Poland to Georgia`s European aspiration and the role of the Eastern Partnership in this process.
"The election environment in Georgia fully corresponds to European standards," the Polish foreign minister stated at the joint press-conference held after the meeting with Ivanishvili. Sikorski said it is an unprecedented fact that the PM has decided to resign. According to Sikorski, a new era will start for Georgia after the October 27 election; a new constitution will come into force and Georgia will be transitioned into a parliamentary republic.
The foreign ministers of Sweden and Poland believe that Association Agreements will be signed with Moldova and Georgia at the Vilnius Summit in November.
PM Ivanishvili is confident that the upcoming presidential election will speed-up Georgia's integration with Europe. He stated after the meeting that the integration process is irreversible now, and Russia will not be able to hamper it.
"I do not think that initialing the association agreement with the EU will complicate Georgian-Russia relations, as Russia will realize soon that the EU is the best democratic and civilized union," Ivanishvili stated after the meeting with the foreign ministers.
The meeting between the foreign ministers and President Saakashvili was held in a less formal environment. Saakashvili hosted his guests at a dinner at the Funicular Restaurant on Mtsatsminda. Minority MP Tinatin Bokuchava; Kakheti Governor, Zurab Chiaberashvili and the EU Ambassador to Georgia, Philip Dimitrov, also joined the dinner.
The dinner went on amid protest outside the restaurant. Human rights defenders and former political prisoners were protesting the nine-year rule of Saakashvili's government outside the restaurant.