The Georgian military vote early in presidential election
Thursday, October 24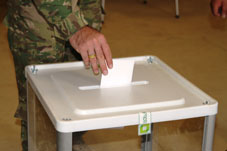 Pursuant to the Constitution of Georgia, the presidential election will be held in Georgia on October 27, 2013. The presidential election will be conducted for the sixth time since the announcement of Georgia's independence.
A week ahead of the polls, Georgian military servicemen deployed for the ISAF mission in Afghanistan made their choice. By the support of the Ministry of Defence, the Georgian Central Election Commission arranged special polling stations there.
The ballot stations were opened at the Georgian and U.S. military bases in Helmand Province. The soldiers voted at camps "Leatherneck" and Eredvi". They were able to vote through portable boxes too, which were taken to the place of destination by MRAP armored vehicles. With the help of U.S. forces, military helicopters defended security of the convoy from the air. The elections process went on in a peaceful environment.
Over 1,500 military personnel took part in the Georgian presidential election.The representatives of NGO Fair Elections and various political parties observed the fair conduct of the election together with CEC members.
For the present moment, the 31st Battalion of the III Infantry Brigade and Batumi Separate Light Infantry Battalion are being deployed in the Helmand Province.
The ballot boxes brought from Afghanistan will be opened and the votes counted together with the overall results after the October 27 elections.