Up-to-date Prosthetic Program for Wounded Soldiers
Thursday, October 24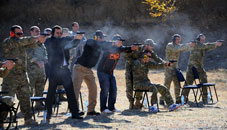 The Defense Ministry of Georgia launched a new rehabilitation program. The military servicemen wounded in action that took place during the August War of 2008, peacekeeping missions and while performing their service duties, will undergo a new prosthetics program in a U.S Medical Clinic under the organizational support of the Georgian side.
The soldiers with amputated limbs will be provided with bio-micro prostheses. They will be able to easily move on difficult terrain with the help of advanced electronic limbs. The new prosthesis is resistant to dust and snow and will enable them to pursue more active life. An individual rehabilitation course will be offered to all the disabled servicemen. After returning home they will return to their units to continue military service there.
The injured military personnel are still actively engaged in military activities and are sharing their experience with other servicemen too. Minister of Defense of Georgia and Chief of the Joint Staff of the GAF met with the wounded military servicemen. Irakli Alasania, along with the wounded soldiers, took part in shooting with various types of firearms. "We had shooting practice with our warriors wounded in action in Afghanistan, Iraq, and the 2008 August War. They can shoot with much preciseness. They are still capable as professionals. We have created a special program for them to send them to the United States in order to replace their amputated limbs with high-tech prostheses," said Irakli Alasania.
Similar events are held and were aimed at enhancement of the combat readiness of the warriors as well as at their physiological rehabilitation.
The Prosthetic Program will continue in the future too and will also extend to those servicemen who were wounded in combat operations for Georgian territorial integrity during the last 20 years.