Khurcha accident case is solved after 5 years
By Tatia Megeneishvili
Thursday, October 24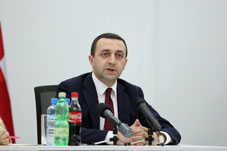 On October 22, the Georgian Interior Ministry (MIA) blamed two of its former employees for being the perpetrators who allegedly attacked the buses with rocket-propelled grenades more than five years ago during an incident in the village of Khurcha on the Abkhaz administrative boundary line on May 21, 2008, the day parliamentary elections were held in Georgia.
Locals, including residents of the Gali district, were then gathered on a football field in the village of Khurcha, preparing transportation to Zugdidi with two buses to cast their ballots in the parliamentary elections, but people fled in panic after gunfire erupted, after that two empty buses were hit by rocket-propelled grenades. Three people were injured. Then Georgian authorities blamed the Abkhaz side in the attack.
On Tuesday, the MIA reported that the former head of the Department of Constitutional Security of the Abkhaz Autonomous Republic within the Georgian Interior Ministry, Roman Shamatava, and the ministry's former employee from the special task unit in the Samegrelo region, Malkhaz Murgulia, were arrested on terrorism charges. According to the official information of the MIA, the two men together with other unspecified high-ranking MIA officials organized and carried out the terrorist act with the purpose of terrorizing the peaceful population.
Minister of Interior Affairs, Irakli Gharibashvili, called it a terrorist act.
"The public saw what the former government was using against its own people; it was a custom terrorist act, carried out against their own people, so that they have been intimidated, and in a panic, etc," stated Gharibashvili.
Londa Shamugia, the lawyer of the accused, said that she thinks the prosecution has no supporting details to convict her clients with such heavy accusations.
Representatives of the former governing United National Movement (UNM) called this fact nonsense. Georgian President Mikheil Saakashvili also responded to this fact and said that this is just part of the pre-election fight.
An investigation is ongoing under the terrorism section of the criminal code, which carries a penalty of imprisonment (15 years to life).
"The details, where or by whom, when, and how everything was done, will come with the investigation," said Georgian Prosecutor General Archil Kbilashvili.