Presidential elections in Georgia: free, democratic and well administered
By Ana Robakidze
Tuesday, October 29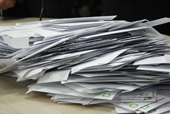 Free, fair and held in a calm manner, this is the characterization of the presidential election by national and international observers. However, a number of procedural violations were still recorded. According to Transparency International Georgia, "the electoral process was generally held in a calm environment during the day, and the number of violations we observed decreased considerably towards the end of the day. By the end of the voting, Transparency International Georgia had observed more than 70 important procedural violations," and TI observers filed 34 complaints.
The prevention of observers from entering polling stations, the agitation by commission members, the problem with seals, entry of polling stations by voters without being inspected for marking and early signing of summary protocols are some of the violations recorded.
The National Democratic Institute (NDI) noted in the official statement that the "election processes largely complied with Georgia's laws and international principles, and Election Day, itself, proceeded peacefully and smoothly. Moreover, the process benefited from the active participation by credible opposition candidates, civil society organizations, the media and voters. These achievements suggest that competitive multi-party elections may be becoming a routine feature of Georgian politics."
NDI had fielded an international observation mission for the October 27 presidential election. According the organization, Georgia has been demonstrating progress toward electoral democracy.
The OSCE/ODHIR deployed 28 long-term, 200 short-term observers and 16 experts on polling stations. The mission assessed the election for compliance with OSCE commitments and other international standards for democratic elections, as well as national legislation.
The organizations concluded that the presidential election was efficiently administered, transparent and took place in an amicable and constructive environment and fundamental freedoms were respected.
Joao Soares, the Special Coordinator who led the short-term OSCE observer mission made an official summarizing statement on October 28th and said that "in a positive and transparent election, the Georgian people have confirmed last year's historic transfer of power."
In the official statement it was noted that the Central Election Commission (CEC) had "managed the preparations for the election in a professional, transparent and timely manner, and there was a high degree of confidence in its work, the observers conclude. The CEC cooperated with observers, non-governmental organizations and the media.
"This clean election following political cohabitation tells me that Georgia's democracy is maturing," Soares stated.
"Over the past six weeks, we have observed a competitive, transparent and well-administered election, in which both the authorities and the opposition played positive roles," Matteo Mecacci, Head of the OSCE/ODIHR long-term election observation mission, said. "This type of process, where all those involved, including a viable opposition, play their proper roles, is essential for the consolidation of democratic institutions."
Representatives of the international monitoring mission noted that October 27th was a very important day for Georgia, as the country managed to carry out a democratic election right before the Vilnius Summit. Krzysztof Lisek, Head of the EP delegation, said that "Georgia will have the opportunity to initial an association agreement with the European Union, as an important step on the path to European integration."