Georgia and Israel continue to strengthen bilateral relations
By Ana Robakidze
Friday, November 1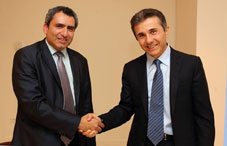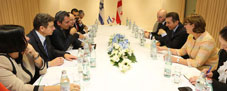 Israel, a close partner to Georgia for many years now, is going to closely cooperate with the President-elect of Georgia, Giorgi Margvelashvili.
Israel Prime Minister Benjamin Netanyahu and Georgian President-elect Giorgi Margvelashvili had a telephone conversation earlier this week. Netanyahu congratulated Margvelashvili on winning the presidential election and expressed his hope of strengthening ties with Georgia.
The two discussed future relations between the countries and agreed to focus and intensify relations, especially in the fields of tourism, trade and business.
Margvelashvili's press office said the Israeli prime minister invited him to pay an official visit to Israel and the Georgian president-elect expressed hope that his visit will take place in the nearest future.
Georgia and Israel also actively co-operate in defense matters.
Israel's Regional Ambassadorial of the Foreign Ministry took place in Tbilisi on October 31st. Georgian Foreign Minister Maia Panjikdize was invited to the ambassadorial as an honorary guest. The minister addressed representatives of the State of Israel's diplomatic missions and regional experts attending the ambassadorial and stressed the bilateral relations between Georgia and Israel, the importance of the need to develop further co-operation in various fields, the ongoing processes in the country and Georgia's foreign policy priorities.
Prime Minister Ivanishvili also participated in the ambassadorial, where he announced that Israel will abolish its visa regime with Georgia. Israeli Deputy Foreign Minister Zeev Elkin also confirmed the news and added that all related technical issues will be discussed with Georgian Minister of Internal Affairs Irakli Gharibashvili. Elkin visited Tbilisi to participate in the ambassadorial and meet Ivanishvili, Gharibashvili and Parliamentary Chairman Davit Usupashvili.
Panjikidze commented on Georgia-Israeli relations after the event and stated that holding Israel's regional ambassadorial in Tbilisi is proof of strong ties between the two countries.
"Many steps have been taken towards the strengthening of our relations. Particularly noteworthy is a special commission working on organizational issues to mark the 26-century history of friendship between the Jewish and Georgian nations not only in the State of Israel and Georgia, but also in different countries of the world." Panjikdize stated.
Panjikdize had a separate meeting with Israeli Deputy Foreign Minister Elkin to discuss bilateral and multilateral relations.
Panjikidze stated that Elkin has been a friend of Georgia for many years now and actively participated in Prime Minister Bidzina Ivanishvili's visit to Israel.
Israel's Foreign Ministry arranged a unique inter-ministerial workshop, held on October 30-31st. The main purpose of the event was to allow diplomats to become better acquainted with the Caspian region, as well as with countries bordering Iran and China.
Anna Azar, head of the department for Central Europe and Eurasia, the Israeli ambassadors in Tbilisi, Baku, Astana and Ashgabat, diplomats and experts on the South Caucasus and Central Asia participated in the event.