James Appathurai at Georgian MoD
Thursday, November 21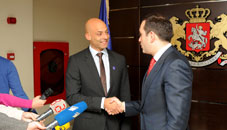 Defense Minister Irakli Alasania hosted James Appathurai at the Ministry of Defense of Georgia. The NATO Secretary General's Special Representative for the Caucasus and Central Asia arrived in Georgia to attend the inauguration ceremony of the President of Georgia.
At the meeting, the Defense Minister expressed his gratitude to NATO representatives for visiting Georgia. "I'd like to thank Mr. Appathurai for visiting Georgia to attend the inauguration. This is an expression of great respect towards our country and our President-elect. This is further proof that the NATO-Georgia relationship is an irreversible process and Georgia will become a member of NATO," stated Irakli Alasania.
At the meeting the sides focused on the free, fair and democratic presidential elections recently held in Georgia. The Defense Minister said, this election was yet another test for Georgia's democracy. James Appathurai also congratulated the Georgian people on the successful election process: "This election was free, fair and democratic. This is something the allies were very much looking forward to and I want to express NATO's congratulations for that."
Ongoing defense reforms and the prospects of the NATO-Georgia relationship were discussed at the meeting. The sides also referred to Georgia's contribution to the ISAF mission. Irakli Alasania reiterated that Georgia expresses its readiness to participate in the operation "Resolute Support" and NRF.
As the NATO Special Representative outlined, NATO's assessment towards Georgia's fulfillment of commitments undertaken by Georgia is positive. "We are just completing now the assessment of what we call the Annual National Program. I can tell you everything that relates to what he has done, and they are positive.What we are going to talk about later is Afghanistan in the future, as we prepare for "Resolute Support" and I know that Georgia is going to be a part of that, as well as the NATO Response Force. So a lot of what we do runs through this office in cooperation with this man and it is going very well," stated James Appathurai.