Military Intelligence Day
Thursday, November 21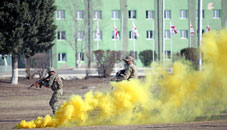 Military intelligence officers celebrated their 22nd anniversary. To mark this day, the representatives of the Military Intelligence Department, the J-2 Intelligence Department and the intelligence units of the infantry brigades of the GAF gathered in the Ministry of Defense of Georgia.
Irakli Alasania congratulated the military intelligence officers and wished them success in future activities. Chief of the JS of GAF, COL Irakli Dzneladze and his Deputy Brigadier, General Vakhtang Kapanadze, celebrated the 22nd anniversary together with the military personnel.
Sergeant-Major of the J-2 Intelligence Department Aleksandre Lagurashvili presented the brief history of the establishment of military intelligence service in Georgia. Today, the Chaplain of GAF Father Davit blessed the military.
Military servicemen of the intelligence units celebrated the professional day by tactical training at the Fourth Mechanized Brigade in Vaziani. Later, a concert was held with the participation of the military. The soldiers performed Georgian folk songs and dances.
Military intelligence officers are officially celebrating the jubilee for the first time this year. By the Order of Defense Minister, November 18 has been set as Military Intelligence Day. On this day in 1991, the Intelligence Division of the Main Staff of the GAF was created at the Ministry of Defense. Military intelligence staff is actively engaged in international security assistance missions and cooperate with partner countries' intelligence services in strengthening regional and international stability.