Reconciliation instead of reintegration
By Messenger Staff
Tuesday, December 3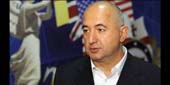 Minister for Reintegration Paata Zakareishvili had been lobbying for some time to change the name of his ministry but President Saakashvili did not approve of the idea. President Margvelashvili was more receptive to Zakareishvili's suggestion and has signed a bill which changes the ministry's name from the Ministry for Reintegration to the Ministry of Reconciliation. The change will take effect in January 2014.
Zakareishvili was appointed as the minister for reintegration after the parliamentary elections in October 2012. He did not like the name of the ministry, which, according to him, inhibits dialogue between Georgians and Abkhaz and Ossetian people.
So, whatever the name of the ministry, the goal of the Georgian government should be clear: dialogue is necessary with the current occupiers of both Abkhazia and South Ossetia.
Many Georgian analysts believe there should be direct dialogue with the Abkhaz and South Ossetian governments. It is difficult to say whether having contact will actually be fruitful. It is clear that the regimes in both states will not move a finger without receiving endorsement from Moscow.
Russia likes to portray this conflict as being between Georgia and its breakaway regions and denies that Russia is involved in the matter other than as a disinterested participant. Of course this is complete hypocrisy on Moscow's part.
Direct contact between Georgians, Abkhaz and Ossetians might increase the sense of confidence between peoples. The word "reconciliation" is a much more human term whereas "reintegration" is a abstract.
Analysts think that the change in name will mean little if the essential approach towards the issue remains the same. It means that Georgia should promote the concept of reverting back to peaceful, brotherly coexistence between peoples rather than simple reestablishing sovereignty over its lost territories.
We hope that the Ministry of Reconciliation promotes reconciliation between people from both sides of the conflict.