PM meets the representatives of Diplomatic Corps
By Ana Robakidze
Monday, December 23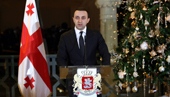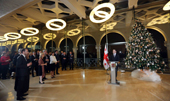 Prime Minister of Georgia Irakli Gharibashvili and his wife hosted representatives of the Diplomatic Corps accredited in Georgia on December 20th. The event was aimed at summarizing the year 2013, and to discuss the plan for the upcoming year.
The PM addressed the guests and expressed his gratitude for their cooperation.
"It is our first meeting of this kind in my current capacity and I am hopeful that we will have many more similar occasions to exchange our opinions and discuss the questions of the day. Anyone being familiar with the recent history of Georgia would know about the very special role that the international presence or, to be more precise, Diplomats of friendly Nations have played in the most crucial and critical moments of our recent past," the PM stated in his address.
In summarizing 2013, Gharibashvili stated two main reasons for the year to be very important. First of all, Georgia has advanced on the path of democracy and the successfully conducted democratic presidential election was great proof of this.
"As another sign of Georgia's democratic consolidation, the Georgian Parliament passed constitutional amendments that restored a more democratic system of checks and balances between the legislative and executive branches of power," the PM stated.
According to Gharibashvili, initialing the Association Agreement with the EU is the second important event that makes the year 2013 significant for Georgia. The PM thanked the EU and especially the Lithuanian EU President for organizing the historic Vilnius Summit of the Eastern Partnership.
"I would also like to thank all those Nations in the European Union who have made exceptional efforts to develop and advance the Eastern Partnership policy." Gharibashvili stated, adding that the Eastern Partnership has become an unprecedented chance for Georgia to move forward towards the EU and speed-up the integration process. He also promised the guests that Georgia will do everything to meet the EU requirements and sign the association agreement by September 2014.
Gharibashvili also spoke about the occupied territories and Georgia-Russian relations. He said that the direct dialogue with Russia launched last year has already brought some results, which allows the Georgian government to remain positive about future relations with Russia.
Gharibashvili also thanked the United States for their active partnership. He stated that "relations with the U.S are developing in a consistent manner, in all major directions in line with the U.S-Georgia Strategic Charter."
The PM expressed his hope that similar meetings with the diplomatic corps will become more frequent and parties will be able to exchange views and discuss important issues.