ADB provides $98 million to improve water and sanitation services in expanding secondary towns of Georgia
Monday, December 23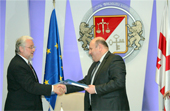 TBILISI, GEORGIA (19 December 2013) – The Asian Development Bank (ADB) and the Government of Georgia today signed a loan for $98 million to support improved water and sanitation services in Georgia's secondary towns.
The concessional loan, part of a $500 million Urban Services Improvement Investment Program multitranche financing facility resourced from ADB's Asian Development Fund, will fund infrastructure improvements in Ureki and Kutaisi, and will strengthen the capabilities of the country's leading water and sanitation provider, which services 58% of Georgia's population.
The water supply system in Kutaisi town will be augmented through construction of three reservoirs, two pumping stations, 11-kilometers of water transmission mains, and a 158-kilometer water supply distribution network. In addition, the project will finance a new water supply and sewerage system for Ureki town comprising a 3.2 million liters per day capacity sewage treatment plant. Approximately 21,150 households will benefit from this ADB-supported project.
"The investment program supports Georgia's long-term sector development plan to provide reliable, safe water and sanitation services to urban residents in secondary cities and small towns," said Klaus Gerhaeusser, Director General of ADB's Central and West Asia Department. "The institutional effectiveness component of this loan is especially important to securing sustainable and efficient water services to the customers of the United Water Supply Company of Georgia".
Institutional components include GIS mapping of water and sewerage network in some 25 towns human resource development through a WSS management program in Georgian universities, creation of sex-disaggregated database to develop targeted marketing campaigns, establishing customer care units in the service centers to inform on water, hygiene, and sanitation, and capacity development and training support to UWSCG staff.
"Providing reliable, quality water and sanitation services to meet growing demand and to prevent health and environmental problems, is now a leading government priority," said Sanjay Joshi, Senior Urban Development Specialist, Urban Development and Water Division, Central and West Asia Department.
ADB's $98 million concessional loan will have a 25-year term, with a 5-year grace period, and carry an annual interest rate of 2% per annum during the grace period and thereafter.
ADB and the government of Georgia also signed a $73 million loan to improve the connectivity between Tbilisi and Rustavi and reinforce the coast of the Black Sea tourist destination of Anaklia. The improved infrastructure will ease chronic traffic congestion, improve the environment and road safety, and contribute to growth and job creation. The $73 million loan is the third tranche of the Sustainable Urban Transport Investment Program, a $300 million multitranche financing facility approved by ADB in 2010 to address urban transport issues in Georgia.
Both loan tranches were signed at the Ministry of Finance by Klaus Gerhaeusser, Director General of ADB's Central and West Asia Department and Minister Nodar Khaduri. Director General Gerhaeusser is visiting Georgia for consultations with the Government of Georgia on the ongoing assistance program and further development priorities.
ADB, based in Manila, is dedicated to reducing poverty in Asia and the Pacific through inclusive economic growth, environmentally sustainable growth and regional integration. Established in 1966, it is owned by 67 members – 48 from the region. In 2012, ADB assistance totaled $21.6 billion, including cofinancing of $8.3 billion. Since 2007, it has approved more than $1.1 billion in financing operations for Georgia.
(ADB)