EU accelerates signing of the Association Agreement
By Messenger Staff
Monday, December 23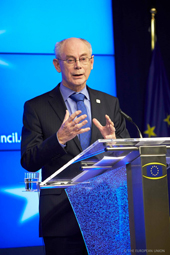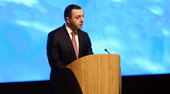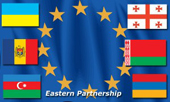 Because of the fast-moving developments in Ukraine, the EU has decided to accelerate the process of signing the Association Agreement between the EU, Georgia and Moldova. The document was expected to be signed sometimes in the autumn, 2014. Now the EU officials announced that the final agreement should be signed in August 2014 at the latest.
President of the European Council Herman Van Rompuy said on December 20th that the European Council will stand by the side of these countries in their choice.
"We are willing to speed-up the signing of the agreements with them – next August at the latest," Rompuy said.
Currently, the EU and Russia are staging a real battle for the Eastern Partnership countries. Both sides are trying to convince the six former Soviet Union states of their positions. So far, four out of six countries are either neutral or pro-Russian, whereas two – Moldova and Georgia – have expressed their straightforward position to join the Eastern Partnership project and become associate members of the EU. The EU has not given up its hopes to sign a similar agreement with Ukraine so far.
Georgian Prime Minister Irakli Gharibashvili said that he is satisfied with these developments and that Georgia will have everything be ready by August 2014.
The PM also stated that this is a very important project for Georgia. He also made it clear that Georgia will not only be a consumer of the benefits for the EU, but will also contribute to EU-Atlantic security.
Gharibashvili also expressed his consent that so far the country has not faced any serious or alarming challenges. Georgian analysts however think that the Russian leadership, which still wants to restore some kind of post-Soviet amalgamation, does not want to abandon its claims, therefore possible complications might appear for Georgia.
Georgian analysts believe that hastening the process of signing the main agreement between the EU and Georgia does not diminish possible complications Russia could create for Georgia.
The EU step shows that officials in Europe are concerned about Russia's domineering role, which continues to grow.