US delegation reiterates American support for Georgia, announces aid package
By Ana Robakidze
Tuesday, January 21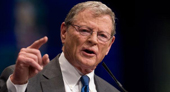 U.S. Congressional Delegation headed by Senator James Inhofe, a ranking member of the Senate Armed Services Committee including Senator John Boozman, Congresswoman Ann Kirkpatrick, Congressman Ander Crenshaw, and Congressman Steven Pearce, arrived in Tbilisi on January 19th.
According to the U.S embassy in Georgia, "the delegation had productive meetings including a lunch hosted by President Giorgi Margvelashvili, along with separate meetings with Prime Minister Irakli Garibashvili, several cabinet ministers, and opposition United National Movement (UNM) party representatives. The visit reaffirmed U.S. support for Georgia's democratic development and territorial integrity, as well as U.S. appreciation for Georgia's sacrifices and contribution to the NATO mission in Afghanistan. The United States Congress strongly supports the sovereign right of Georgia to choose its own future, and we welcome their closer relationship with the EU through the Eastern Partnership program."
Successful cooperation between the U.S and Georgia in the field of international security and anti-terrorist activities, as well as the Euro-Atlantic integration process, Georgia-Russian relations and democratic developments in the country, was discussed at the meeting between President Margvelashvili and the U.S delegation.
After meeting with the Congressional Delegation, Justice Minister Thea Tsulukiani said that the U.S is a friend of the Georgian people, not of a particular government. The congressional delegation also held meetings with Georgian lawmakers from the opposition United National Movement party.
"We call on Russia to stop its aggressive activities against Georgia, the country that has recently held two democratic elections. We do not have a better friend than Georgia in the world," Senator Inhofe said at the press conference after the meeting with PM Gharibashvili. Inhofe condemned Russian occupation and said it threatens Georgia's sovereignty and free choice of the Georgian people to be a part of the European and Euro-Atlantic space.
"We strongly support Georgia's NATO aspirations and we are grateful for Georgia's contributions and activities in Afghanistan. Lastly, we call upon Russia to cease immediately its aggressive actions against Georgia, and engage in the Geneva international discussions. In summary, we don't have a better friend anywhere in the world than Georgia", Senator Inhofe said.
According to the Foreign Ministry of Georgia, the U.S will issue additional financial aid in the sum of $62 million. The decision was made in accordance with the Consolidated Appropriations Act for the fiscal year of 2014, which allocates financial resources to the Eastern Partnership countries. The funds should assist Georgia with fulfilling the Association Agreement with the European Union (including a Deep and Comprehensive Free Trade Area Agreement) and the visa liberalization action plan with the EU.