Membership Action Plan (MAP) sparks intrigue
By Messenger Staff
Tuesday, January 21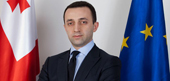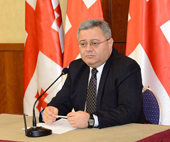 Georgian Prime Minister Irakli Gharibashvili and Chairman of the Parliament Davit Usupashvili weighed the ramifications of Georgia not receiving NATO's Membership Action Plan at the next NATO summit.
Usupashvili expressed his concern over the very real possibility of Georgia not receiving MAP, highlighting the resulting threats to the country. The PM took a different approach, stating that that little would change in the country despite the outcome of the summit.
According to Usupashvili, if Georgia does not at long last receive MAP, it could have an influence on the country's political stability and could possibly activate anti-Western sentiments among the population.
He warned the West that it would be difficult for the government to convince the population of the benefits of being pro-West if Georgia fails to receive MAP status. As an example, he cited the Bucharest summit in 2008 that was labeled by Georgia's former leadership a success, when instead of MAP, Georgia received a promise that one day our country would become a full-fledged NATO member state.
In addressing Usupashvili's statement, PM Gharibashvili noted that even if Georgia does not receive MAP, the country would not deviate from its European course.
The PM stressed that Georgia's foreign policy remains the same, and underscored that the administration should not create false expectations concerning MAP due to the possibility that Georgia may yet walk away from the next Summit without receiving MAP.
Former PM Bidzina Ivanishvili promised last spring that Georgia aimed to receive MAP in 2014. However, since then, the Georgian leadership has toned down this sentiment.
With regard to the expected response from the Kremlin many anticipate after the Sochi Games come to an end, the PM pointed out that Russia no longer has the political or other levers they once enjoyed using in order to pressure and make life difficult for Tbilisi.
Political analysts' opinions differ on the subject. Ramaz Sakvarelidze agrees with Usuipashvili's concerns, whereas the pro-Russian former Minister of Security Valeri Khaburdzania (during president Shevardnadze) labels Usupashvili's comments as blackmail.
Currently, Russia and President Putin have more important business to attend to while they address the security nightmares they face ensuring safety in Sochi as they host the Winter Olympics. Until the Olympics come to an end, Georgia will have to play a game of wait and see.
Probably afterwards as well.