Congressional Staffers' Delegation
Thursday, January 23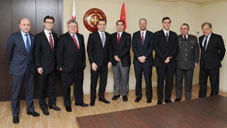 The Congressional staffers' delegation paid a visit to Georgia. The Minister of Defence and his deputy Mikheil Darchiashvili received the group of staffers from the US Senate Committee on Foreign Relations (SFRC).
At the meeting, Irakli Alasania thanked the delegation members for their support and cooperation. The minister underlined that the Senate resolution will greatly support Georgia`s integration into Euro-Atlantic organizations.
The progress achieved in terms of democratic development in Georgia and the regional security environment were the main topics of discussion during the meeting.
As the Minister of Defence underlined, Georgia`s NATO accession is of great importance for the country's foreign and security policy. The sides touched upon Georgia`s foreign policy priorities as well. The minister stressed the progress made in the GAF and the importance of the upcoming 2014 NATO Summit for Georgia. The ISAF operation, Georgia`s engagement in the NATO Resolute Support Operation beyond 2014 and participation in the NATO Response Forces in 2015 were also highlighted during the meeting.
At the meeting with the group of staffers from the US Senate Committee, special attention was paid to the bilateral military cooperation between the United States and Georgia. As the minister emphasized, support from the United States is critically important for the improvement of Georgia`s defence capabilities.
Irakli Alasania talked of the fruitful visit in Washington in August during which the sides focused on the achievements made in the areas of enhanced military cooperation with the U.S. and the new directions of bilateral partnership.
"The meetings with the Congressional staffers are of the utmost importance. These public officials prepare decisions in Congress. We have talked about the aspects of mutual cooperation especially regarding the increase of defence armaments and the enhancement of Georgia`s defence capabilities, the role of the United States in this regard and concrete decisions, which will enable Georgia to have an army capable of deterring the enemy. We have also touched upon the NATO integration process, the upcoming 2014 NATO Summit, where Georgia will have the unconditional support of the United States to receive all the necessary instruments for full-fledged integration into NATO."
The U.S. delegation members visited the Krtsanisi National Training Centre and familiarized themselves with the centre`s capabilities.