Visit of NATO Military Committee to Georgia
Thursday, January 23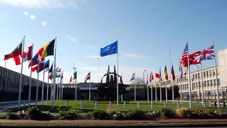 Georgia will host the NATO Military Committee on February 11-12. Chairman of Military Committee, General Knud Bartels will lead the visit of NATO Chiefs of Defence to Georgia.
Information concerning the visit of the NATO Military Committee to Georgia became publicly known after the meeting with the Chairman of the Military Committee. Major-General Vakhtang Kapanadze held the first meeting with General Knud Bartels as a Chief of General Staff of Georgian Armed Forces.
Official statement about the visit of NATO Military Committee to Georgia was made yesterday by the Chief of General Staff of GAF, Major-General Vakhtang Kapanadze , who is participating in the 170th NATO Chiefs of Defence meeting.
"On February 11-12, NATO Military Committee will schedule a visit to Georgia. This is a unique possibility for the discussion of military-political and NATO-Georgia cooperation issues in the regional security direction. At the same time, NATO top military brass will be informed about the progress Georgia has achieved recently," outlined Major-General Vakhtang Kapanadze.
Within the visit to Georgia, the Military Committee sitting will be held in 28+1 format, where the main issues of the discussion are Georgia's security and defence transformation, Georgia's contribution to Euro-Atlantic security and NATO-Georgia future cooperation.
The Military Committee (MC) is the senior military authority in NATO. It is the primary source of military advice to NATO's civilian decision-making bodies. It also provides military guidance to the alliance's two Strategic Commanders. The members of the Committee are the highest military officials of NATO countries.