Completed Infrastructural Works at Adlia Military Base
Thursday, January 23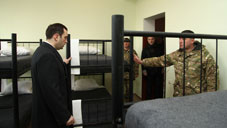 Minister of Defence of Georgia continues to inspect infrastructural and construction activities which have already finished at the military bases. Today, Irakli Alasania visited the base of Batumi Separate Light Infantry Battalion of West Operative Group.
All the construction work scheduled for 2013 at the Adlia military base have come to an end. The buildings located around the base were completely rehabilitated. Electricity and pipe arrangement have all been entirely changed, ventilation and new heating systems have been installed, bathrooms repaired; painting work has already been completed; classrooms are equipped; outdoor lighting has also been arranged and fencing the whole perimeter of the base has been completed; and the gasification of the base's premises is at the final stage.
"The barracks have been entirely rehabilitated at the Adlia military base. The boiler house is at the final stage which will serve the whole base. The buildings where the English language classes are held have been rehabilitated. I am very glad as our officers and military servicemen started learning English. This is an important language for NATO interoperability. It's essential that our soldiers serve in better conditions. This task is basic for us. It started last year and will continue this year as well. We will create such conditions in each military base that gives us the military ability to carry out their main task – defend the country. I am sure, Georgian soldiers will be more effective," outlined Defence Minister.
In 2013, the Defence Ministry carried out more than 100 large and small scale infrastructural projects. Mainly, the infrastructural projects include the rehabilitation and construction works on barracks, staff, mess halls, infirmary, accommodation or working blocks and check-points. The rehabilitation work is scheduled to be continued in 2014 and aims to improve living conditions for military and raise their combat awareness.