Government sets up an advisory body
By Ana Robakidze
Thursday, January 23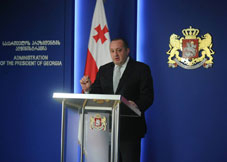 The State Security and Crisis Management Council, created as an advisory body for the Georgian Prime Minister, may be caring the same objectives and authority as the president's advisory body, the National Security Council.
According the government decree issued on January 6th, the Crisis Management Council carries out the following duties: the assessment of both internal and external threats, the consideration of domestic and foreign policy issues that are directly related to state security, the organization of state strategy in foreign policy and security areas, the development of proposals for Georgia's cooperation with the collective security system, the review of laws and other normative acts of state defense and security issues; the control of efforts of the defense and security sector ministries, Abkhazian and Adjarian Autonomous republics, local governments and other state agencies, and others. All of the listed responsibilities are identical to the duties carried out by the National Security Council. Also, both councils have a similar composition.
Minister of Energy, Kakha Kaladze says the PM's Crisis Management Council is not identical to the National Security Council. The minister explained that the main goal for creating a new advisory body in the cabinet was to make sure the PM is always informed on the security issues.
"As you all know, after the amendments to the constitution, the Security Council still remains as the president's advisory body. Setting up a new council aims to make sure the PM is always updated on security issues," Kaladze said.
Prime Minister's press center informs that the PM's assistant in security issues, Mindia Janelidze, was appointed as the Secretary of the State Security and Crisis Management Council.
PM Irakli Gharibashvili already held the first session with his advisory Council. The meeting took place behind the closed doors on January 21st. According to the government's press center, the country's internal and external security issues were discussed with the Defense Minister, Foreign Minister, Finance Minister, State Minister for Reconciliation and Civil Equality, Speaker of the Parliament, Head of Intelligence Service, Head of State Security and Crisis Management Board, Prime Minister's special representative for relations with Russia.
The operation of two similar advisory bodies in the government is absolutely acceptable for President Guiorgi Margvelashvili. At the press conference on January 22nd, he said the state constitution establishes the National Security Council and it will remain, while the PM is also free in his actions to reorganize state institutions within his competence.
Altering the model of the National Security Council is more acceptable for the Former Chairman of the Council Giga Bokeria, rather than setting up an alternative advisory body by the PM.
"There are some models existing in the world, where the Security Council is accountable to the PM," Bokeria said. He added that the government could have requested amendments in the legislation making the council accountable to Ghariabshvili.