Sides take different positions at IPRM meeting
By Natalie Osipovi
Thursday, January 23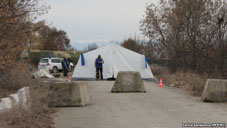 The 41st meeting under the Incident Prevention and Response Mechanism (IPRM) took place in Ergneti on January 21.
The meeting was attended by the Head of the EU Monitoring Mission in Georgia (EUMM), Toivo Klaar and Ambassador and Special Representative of the OSCE, Angelo Gnaedinger, who replaced Andrei Deshitsa on this position. It was the first time Gnaedinger had participated in the meeting in his role of Special Representative of the Swiss OSCE Chairmanship.
Participants reviewed the detention cases that occurred since the last meeting on December 9, 2013. The meeting was quite tense and lasted more than 7 hours.
The sides discussed various issues facing local communities and reviewed the electricity and water supply situation.
They also raised various issues faced by local communities on the ground with regard to the presence of fences along the Administrative Boundary Line (ABL).
According to the statement of the Ministry of Internal Affairs (MIA), the Russian Army recently installed banners in multiple villages in the Kareli region and in the villages of the Gori region.
The chief of the Ossian delegation, Khokh Gagloiti, referred to the maps of the Ossetian Autonomous district and proved that such banners should be installed there.
"The territory of the villages of Disevi and Korkula are part of the South Ossetia," he stated. In response, the representative of the Analytical Department of the Ministry of Internal Affairs of Georgia, Kakha Kemoklidze, said that the Georgian side has its own arguments regarding this case. An agreement has still not been reached.
Participants also discussed the issue of prisoners who are in prisons in areas controlled by the central government and Tskhinvali. The Head of Analytical Department of the MIA, Gocha Ratiani, states that a positive result has been reached regarding this issue.
"The Georgian and S. Ossetian sides continue the negotiations about the release of detainees. Concrete steps have already been made when two sides exchanged two prisoners - Marek Dudaevi and Teimuraz Jerapovi," Ratiani stated.
The next IPRM meeting will take place on February 27, 2014.
The IPRM was created in February of 2009 as a result of the Geneva discussions that followed the 2008 conflict in Georgia. The meetings are an opportunity to identify and discuss potential risks, and the follow-up of incidents and issues affecting the communities on a daily basis. The meetings are co-facilitated by the OSCE and the European Union Monitoring Mission in Georgia.