50th Munich Security Conference
Thursday, Febraury 6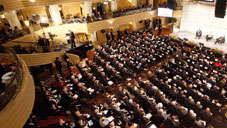 A Georgian Delegation led by Prime Minister Irakli Garibashvili took part in the50th Munich Security Conference. Since its foundation the MSC has been an independent forum dedicated to promoting peaceful conflict resolution and international cooperation and dialogue in dealing with current and future security challenges. Defense Minister of Georgia Irakli Alasania and Minister of Foreign Affairs Maia Panjikidze were among the members of the Georgian Delegation. Within the framework of the Conference, the Prime Minister of Georgia delivered a speech to the participants at the session entitled Global Power and Regional Stability. Georgian Defense Minister Irakli Alasania commented on the importance of the Munich Security Conference and Georgia's contribution to global security:
"It is very essential for our country as the Georgian Delegation and Prime Minister can speak about our security, Georgia's contribution in international security, regional security issues and relations with Russia. For two days, political and economical leaders of the world, as well as experts here discuss the main global issues. It's very important that Georgia is on the agenda."
The Munich Security Conference (MSC) is the leading international and independent forum in the field of foreign and security policy. Each year, it brings together decision-makers and experts – heads of state and government, foreign and defense ministers, diplomats and other government officials, military leaders, members of parliament, leaders of international and non-governmental organizations, CEOs and other private sector experts, as well as think tanks and academics – from around the world to engage in an intensive debate on current and future security challenges.