EU once again expresses support for Georgia's territorial integrity
By Ana Robakidze
Thursday, February 6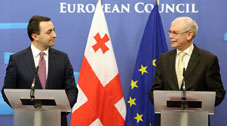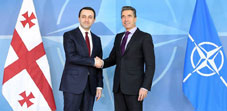 The European Union welcomes establishing dipolmatic contacts between Georgia and Russia. The European Council President Herman Van Rompuy said at the pre-conference, after meeting Prime Minister Irakli Gharibashvili that contact between the two countries is important to ensure stability in the region. However, the EU is still very concerned over the installed barber wired fences along the occupation line with the South Ossetia breakaway region.
"I confirmed the EU's support for Georgia's territorial integrity and our commitment to support the conflict settlement through our co-chairmanship at the Geneva international negotiations, as well as with the help of the observer mission in Georgia," he said.
Georgian PM said it is necessary to convince Russia that Georgia's proximity to the EU is not a threat. Moreover, "a stable Georgia is in the interests of Russia," Gharibashvili said.
At the meeting President Herman Van Rompuy and Gharibashvili discussed various issues including the Association Agreement. According to Van Rompuy the signing of the agreement should be accomplished no later than autumn of 2014. It was decided during the meeting that the EU president will visit Georgia in the near future.
The Georgian PM also held a working dinner with the representatives of the EU institutions. The meeting was held in Brussels at the Embassy of Georgia and was attended by the representatives of the European Commission and the European Council, as well as the ambassadors of the European Union.
Within the frames of his first official visit to Brussels, Gharibashvili was invited to the Egmont Royal Institute of International Affairs, where he spoke about the Georgian Government's plan for European integration.
According to the PM's press office, "he focused on post- Vilnius challenges and expectations from the 2015 Eastern Partnership Summit in Riga… and also discussed the new opportunities ensured at the Vilnius Summit and focused on the challenges accompanying this process."
In his speech Gharibashvili highlighted six major achievements in the country's domestic politics: the October presidential election, constitutional amendments, the government's efforts to ensure a free and independent judicial system,the Georgian media's liberation from political pressure, respect for human rights and fundamental freedoms, including minority rights, protection of property rights and promotion of business. Speaking about Russia, the PM said Georgia is trying to reduce tensions in relations with Russia and is consistent in this effort.
"In spite of the efforts of our government, Moscow continues its provocative and destructive acts along the occupation line by installing barbed wire fences. In this context, I would like to highlight the EU's crucial role in the peaceful resolution of the Russian-Georgian conflict, its firm support for the territorial integrity of Georgia," Gharibashvili said.
Before leaving Brussels, the Georgian PM visited NATO headquarters and met NATO Secretary General Anders Fogh Rasmussen. After the meeting they answered the questions of journalists at a joint press-conference. Gharibashvili also participated in NATO-Georgia Commission session.