First on the market – iPad Bank from TBC Bank
Thursday, Febraury 6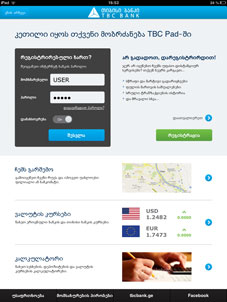 TBC Bank has created the first Georgian application for internet bank for iPad. With this application, users can manage their funds and receive various kinds of banking information anytime and anywhere via their iPad.
"The iPad bank application was developed in compliance with modern standards of design and represents the latest technological services. It simplifies your connection to the bank; and offers all the functions provided by TBC internet banking," says Vazha Beriashvili, Deputy Director of Retail and SME Banking at TBC Bank.
To use TBC Bank's iPad Bank, it is necessary to register using a username and password. You only have to download the application from the App Store, which is located in the "Finances" category under the name TBC Bank. After installing the app, it is easy to manage your funds from there.
With the help of TBC iPad Bank, you can check the balance on any account, including deposits and loans, view your statement; fill mobile balances and pay for utilities; transfer money to own accounts; check currency exchange rates; receive information on monthly incomes and expenses; or locate the nearest branch office or ATM.
iPad bank can be used by individuals as well as legal entities.
The iPad bank application is the latest news within the frames of TBC Bank distance services project. Just in 2013, TBC Bank's Internet Bank was acknowledged as one of the best in the world by Global Finance magazine. TBC Bank won two global sub-category awards in the Consumer Internet Banking category for Best Integrated Internet Bank Site and Best Bill Payment & Presentment.
Georgian banks have never enjoyed international acknowledgement on this scale. TBC Bank was nominated alongside internationally-recognized financial institutions like Citibank, HSBC, Standard Chartered, Garanti Bank, and Scotiabank.
The
Global Finance
Internet Bank Award is one of the most prestigious awards in the world. It has been recognizing leading global banks from throughout the world for more than 14 years.