State Commission approves Annual National Program for 2014
By Ana Robakidze
Tuesday, March 11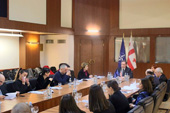 Georgia's State Commission for NATO integration approved the Annual National Program (ANP) for 2014.
The session of the State Commission was held at the National Library of the parliament and was chaired by the State Minister for European and Euro-Atlantic Integration, Alexandre Petriashvili.
The document will be sent to NATO representatives as soon as Prime Minister Irakli Gharibashvili signs it. The Georgian side will hold a presentation of the program at the session of NATO-Georgia commission in Brussels.
ANP is one of the tools for the integration process with NATO. Georgia has been working on annual program since 2009. The document lists all the main priorities and obligations of the Georgian side, future Georgia-NATO cooperation details, as well as the reforms the country has carried out in order to approach the alliance standards and foreign priorities.
The Georgian government attributes great importance to the ANP 2014. The country is expecting to be granted Membership Action Plan (MAP) at the September 2014 NATO summit in Wales.
Parliament speaker Davit Usupashvili said earlier that failure to grant Georgia a (MAP) at the summit in Wales, may lead to political instability.
The Georgian side was expecting to receive MAP at the April Bucharest summit in 2008. However, Germany, France and most of the West European states were against awarding Georgia a MAP, while the United States, Canada, and most East European states were in favor. Instead, Georgia was offered an Intensified Dialogue (the preliminary to MAP) in 2008.
In 2013, Georgia's progress towards meeting NATO membership requirements was noted by many NATO officials, including the Secretary-General Anders Fogh Rasmussen.
While visiting Tbilisi, in summer 2013, Rasmussen said Georgia was on the right path and it had moved a lot closer to NATO.
The Georgian government expects NATO to recognize and evaluate the progress of the country. According to the deputy Foreign Minister, Davit Zalkaniani, Georgia has high hopes for the Wales Summit.
"Georgia has achieved significant progress in democratic reforms, as well as in contributing to the global peace and security. We believe this progress has to be evaluated and appraised accordingly in 2014," Zalkaniani said after the meeting of the State Commission.