Possibility of Russian embargo
By Messenger Staff
Tuesday, March 11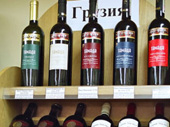 With the Georgian Dream coalition coming to power in Georgia Georgian products, in particular alcohol and mineral waters, have started returning to the Russian market. Only a year has passed and the results are impressive.
Georgian wine is triumphantly taking its place on the Russian market. There is an opinion among the analysts that Russia might exercise another round of embargo towards the Georgian alcohol and mineral waters.
However, the Georgian officials doubt that this will be the case, because the embargo imposed on Georgia in 2006 did not yield devastating effects on the Georgian economy, as the country started looking for other markets quite successfully. Therefore, an embargo on Georgian products will not be giving Russia the desired results.
Tbilisi is less and less dependent on Moscow, either for selling products or receiving energy. Georgia does not depend on Russian natural gas or oil. It receives its supplies from Azerbaijan.