Georgia's PM welcomes Israeli businessmen
Tuesday, March 11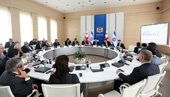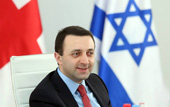 Trade and investment opportunities between Georgia and Israel were discussed at Monday's business meeting led by Georgian Prime Minister Irakli Gharibashvili.
Gharibashvili introduced the Israeli businessmen with the country's business environment and hosted a roundtable business meeting at the Georgian government's administration building.
At the meeting, the sides came up with an idea to create a business council between Israel and Georgia. Gharibashvili said the idea to establish Israel-Georgia business council supported bilateral relationships between the business communities of both countries.
He also said trade and investment opportunities between the two countries were "still not properly assimilated".
The meeting was also attended by numerous Georgian officials, including, Georgian Minister of Agriculture Shalva Pipia, Finance Minister Nodar Khaduri, Regional Development and Infrastructure Minister Davit Narmania and Head of Georgia's National Investment Agency Giorgi Pertaia.
(Agenda.Ge)