Car re-export become problematic issue
By Messenger Staff
Tuesday, March 11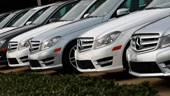 For the last several years, Georgia has become a serious hub for re-exporting cars from the US, Europe, Japan and Korea. Many of such cars are still coming to the Poti Black Sea port and then they are further sold to Armenia, Azerbaijan and Central Asia.
Kazakhstan was the first among the countries receiving cars from Georgia to withdraw from the scheme. As soon as Kazakhstan joined the Customs Union established by Russia together with Belarus, car re-export from Georgia to Kazakhstan has stopped.
It's planned that Armenia will also join the Customs Union and, accordingly, new customs regulations will be activated in Armenia as well. As a result, the export of second-hand cars from Georgia to Armenia will also become a problem.
So, now Azerbaijan remains the only market for re-exporting cars from Georgia. In 2013, cars worth of $380 million USD were re-exported to Azerbaijan. This is more then a half of the total amount Georgia has received from re-exports that year.
However, from April 1, 2014 Azerbaijan will switch to new ecological standards – Euro-four. It means that no cars produced before 2005 will be allowed to run in Azerbaijan. This will be a heavy blow to the Georgian dealers involved in re-exporting cars.
Presumably, in 2014 Armenia and Azerbaijan will also stop buying cars via Georgia. However, the population of those countries will definitely face problems too, because not many in those countries can afford to purchase brand new cars.