Non-parliamentary opposition to unite?
By Messenger Staff
Tuesday, March 11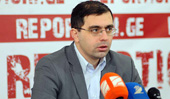 On June 15 Georgia will hold local self-government elections. The Georgian Dream coalition plans to win the elections. The parliamentary opposition – United National Movement (UNM), also aims to achieve certain success, at least to remain as the country's major oppositional force. Meanwhile, the non-parliamentary opposition has started speculating about unification, as this is their only opportunity to achieve success during the elections.
Analyst Zurab Bigvava has carried out several projects that study public opinion. He concluded that the Georgian Dream coalition is the leading public vote-getter. However, there is still room for other political forces as well.
One of the main arenas for the local elections is the battle for Tbilisi and, in particular, for the position of mayor of Tbilisi.
So far, only the current administration has nominated its candidate for the mayor's position. This is the current minister of regional development and infrastructure, Davit Narmania. He was nominated by then Prime Minister Bidzina Ivanishvili before he left his position.
The opinions of the analysts differ over Narmania's candidacy. Some think that he will win, while others disagree.
The UNM is going to hold primaries to select its mayoral candidate for Tbilisi. However, the non-parliamentary opposition is seriously considering selecting one candidate acceptable for all the non-parliamentary parties.
The Labor Party is the only non-parliamentary entity who claims it will win the elections with its own independent candidate. Other non-parliamentary parties are trying to find common ground for unification. However, there is a timetable for this, so these parties have to act fast.
So far, the New Rights, Free Georgia, Democratic Movement – United Georgia, Christian Democratic Movement and some smaller parties are discussing the issue of having a joint candidate. Presumably, this will be the so-called third political force.
There appears to be some equilibrium in the political spectrum of Georgia where the Georgian Dream is the leading political force and the UNM – the major oppositional party. However, if the non-parliamentary opposition manages to unite all its reserves, it can emerge as a third political power.
Already different political figures express their claims to become a candidate for the mayor's position. And there are already different names mentioned among them, including Kakha Kukava, Jondi Baghaturia, Levan Gachechiladze and others. Although none of them have made an official confirmation yet.
Time is passing and if the steps for unification are to be taken by the non-parliamentary opposition, it should be done in quickly.