International community refuses to recognize the Crimean referendum
By Ana Robakidze
Tuesday, March 18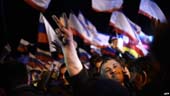 The autonomous region of Crimea voted to break off from Ukraine. Nearly 97% voted in favor of joining the Russian Federation in a Moscow-backed referendum.
On March 17th, lawmakers in Crimea approved a resolution that declared the region an independent, sovereign state and after they filed an appeal to join Russia. Russian President Vladimir Putin plans to address a joint session of parliament on Crimea on Tuesday, March 18th.
However, the international community is not going to recognize the results of the referendum.
Georgian Ministry of Foreign Affairs released an official statement on March 16th and said it does not recognize the referendum conducted in Crimea.
"Russia's attempt to annex Crimea represents a blatant violation of the commitments it has undertaken both under multilateral and bilateral agreements." The MFA reiterates its support for "Ukraine's sovereignty and territorial integrity within its internationally- recognized borders and calls upon the international community to consolidate efforts to make the Russian Federation order its troops back to base, to immediately de-escalate the situation in Crimea, as well as in other regions of Ukraine, to enter into direct talks with the Ukrainian Authorities and to co-operate with the international community in order to find ways to deal with the existing situation."
Speaking in Brussels, EU foreign policy chief Catherine Ashton said the referendum cannot be recognized as it was illegal under the constitution of Ukraine and under international law.
"I call upon Russia yet again to meet with Ukrainian leaders and to start a dialogue with them, and to try to move to de-escalation, please, as quickly as possible. We've seen no evidence of that," Ashton said.
EU foreign ministers already met in Brussels to discuss their response to Russian activities in Ukraine. The EU has already suspended talks on an economic pact with Russia and an easing of visa restrictions. The ministers are now considering imposing a visa ban and an asset freeze against a number of Russian officials.
The White House calls on Russia to respect the Ukrainian territorial integrity, saying that "the referendum violates the Ukrainian constitution and occurred under the duress of Russian military intervention" and it will never be recognized by the U.S or international community.
President Obama "emphasized that Russia's actions were in violation of Ukraine's sovereignty and territorial integrity and that, in coordination with our European partners, we are prepared to impose additional costs on Russia for its actions. President Obama underscored that there remains a clear path for resolving this crisis diplomatically, in a way that addresses the interests of both Russia and the people of Ukraine."
The White House believes that diplomacy should be the only way to deescalate the situation in the Ukraine. However, it is impossible to use diplomatic means, while "Russian military forces continue their incursions into Ukrainian territory."
President Obama told Putin that Secretary Kerry continues to be prepared to work together with Foreign Minister Lavrov and the Ukrainian government to find a diplomatic resolution to the crisis.