Council of the World Customs Organization underway in Tbilisi
By Tatia Megeneishvili
Tuesday, March 18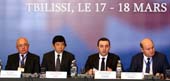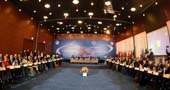 Georgia hosted a large-scale customs conference on March 17. Prime Minister Irakli Gharibashvili opened the conference of European Regional Customs Administration 2014 of the World Customs Organization and welcomed 100 representatives from 52 countries to the Radisson Blu Hotel in Tbilisi.
"On behalf of the host country of the conference, I am honored to welcome you in Georgia, one of the most ancient countries in Europe, and to participate in the ceremonial opening of this conference," the PM said, adding that the current reforms in the country are focused on creation of sustainable system, supporting the free development of the law-abiding business.
According to Gharibashvili, the initiation of the EU Association Agreement and its part about the Deep and Comprehensive Free Trade Area within the European Partnership Summit should be emphasized. He also spoke of the necessity of developing, deepening and strengthening the existing trade relations between Georgia and its trade partners, as well as settling the relations with the Russian Federation via constructive dialogue.
"One of its guarantees is the Georgian Customs Administration, oriented on supporting public welfare and security, the promotion of legitimate trade and ensuring the fair administration of the revenues necessary to finance the public sector," Gharibashvili stated.
Georgia joined this organization in 1993.
"Today we are actively involved in the introduction and implementation of standards developed by the WCO. It is through applying various instruments developed by the WCO that we are able to tackle the challenges facing us and achieve our goals in full. All this applies equally to the customs administrations of other countries as well," PM stressed.
Georgian Finance Minister, Nodar Khaduri, also made a statement. He said it is very important, that Georgia had one of the best custom systems and that the country is now sharing it with its neighbors.
"It is also important that the signing of the new standards being developed by the WCO, in Europe and Georgia, are focused on business, informational exchange, so that people can get easier custom service access," Khaduri said.
Within the frameworks of the conference, the agreement "On Mutual Administrative Assistance in Customs Matters between the Governments of Georgian and the Government of the Republic of Azerbaijan" was signed on behalf of the Government of Georgia.
The conference was organized by the WCO, the State Customs Committee of Azeribaijan and the Georgian Revenue Service of the Finance Ministry. The two-day event aimed to determine the institutional development strategy and priorities of Customs Administration of European Region and to approve plans that help implement this.
Chairman of the WCO, Secretary General, Kunio Mikuriya, and WCO vice Chair of the European Region, Aydin Aliyev, attended the session.