Ivanishvili's assets comprise 32% of Georgia's GDP
By Messenger Staff
Tuesday, March 18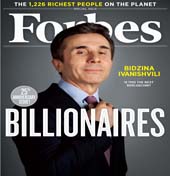 Forbes has published the ratings of the countries where the biggest assets belong to the billionaires. Georgian billionaire Bidzina Ivanishvili is on the top of the list who in fact is the only citizen of Georgia in the billionaires' list.
According to this data, Ivanishvili is the richest man in the world when his assets are evaluated according to the GDP of the country.
Ivanishvili's assists are estimated as $5.2 billion. This is 32% of Georgia's GDP.
In Ukraine, for instance, nine billionaires own in total $26.6 billion in assets, which creates 15% of the GDP. In Russia, there are 111 billionaires with assets worth $422 billion altogether, which is 20% of Russia's GDP.
Forbes rating has only one country from the EU. This is Sweden, where 17 Swedish billionaires possess cumulative $99 billion assets, which is 18% of the country's GDP.
Fourth on the list is Lebanon. Three billionaires there possess $7.7 billion in total assets, which equals to 17% of the country's GDP.
Israel's 17 billionaires make up $44.8 billion in assets, which is 16% of GDP.
Next comes the Philippines and Chile. The USA is ninth on the Forbes rating with 492 billionaires possessing $2.3 trillion worth of assets, which is 14% of the USA's GDP.