Wheat import decreases
By Messenger Staff
Tuesday, March 18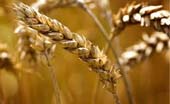 In 2013 the import of wheat into Georgia decreased compared with the previous years. This information has been disseminated by the National Statistic Office of Georgia (GeoStat).
So far, Russia has been the major importer of wheat in Georgia followed by Kazakhstan and Ukraine.
In 2012 Switzerland also imported wheat to Georgia.
There are different explanations to the tendency of decreasing wheat import. Presumably, there is a certain reserve of wheat in the country and besides, last autumn Georgia has yielded a better harvest of wheat.
In 2014 the world expects a good wheat harvest and if very strict sanctions are not adopted against Russia, the wheat price will not increase. However, if the sanctions against Russia involve wheat as well, Georgia will definitely switch to other markets, mostly – Kazakhstan and it is unlikely that the wheat price will dramatically increase.