Grushkov says Russia will never accept Georgia's NATO membership
By Ana Robakidze
Monday, March 24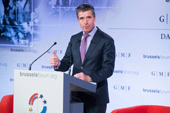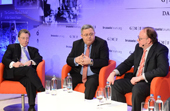 Moscow firmly believes that Georgia's choice to join NATO is a huge mistake. The official position of the Russian Government was laid out by Russia's Ambassador to NATO Alexander Grushko, at the Marshall Fund's annual Brussels Forum on March 21.
Grushko said that building-up a strategic partnership and de-freezing NATO-Russian relations has been Vladimir Putin's policy since he came to power. The ambassador also mentioned the situation in Crimea and pointed out that Russia does not need permission either from the European Union or from NATO to act within international law.
NATO Secretary General, Anders Fogh Rasmussen, who was among the panellists at the forum, together with his two predecessors Jaap de Hoop Scheffer and Lord George Robertson, reminded Grushko about the 1999 OSCE Charter for European Security, which gives member states the right to identify its own security arrangements and choose alliances.
"Why does the Russian federation not respect the principle, to which it has subscribed," Rasmussen asked.
The ambassador replied that NATO is free to take any decision and Russia is free to take any decision to protect its legitimate security interest.
"We were very outspoken in all our discussions that we do believe that if NATO goes with enlargement it will continue to produce new dividing lines, moving dividing lines towards Russian borders, and we said very clearly also that in some cases these dividing lines will cross the countries, inside the countries and this was a very important signal," Grushko said.
"Will you accept Georgia's right to choose NATO membership if this is the Georgian decision and if NATO accepts? Would you accept that?" Rasmussen asked the Russian Ambassador.
"No. I was absolutely very clear: we are against [it]. We believe that this is a huge mistake," Grushko replied.
Jaap de Hoop Scheffer said at the forum that what Putin is doing now, is his belated answer to EU and NATO enlargement.
"Putin started with Crimea, he might not take all the other territories, but he is going to create a protective ring of nations where he wants to influence," Scheffer said. He also addressed ambassador Grushkov and told him that the Russian invasion of Georgia, as well as the invasion of Crimea was pre-planned by Moscow.
Summing-up the NATO forum, Georgian Parliament Speaker Davit Usupashvili said that considering the Russian factor, NATO is going to take steps in order to strengthen the security of the member states.
"The Baltic countries, Poland and other neighboring countries to Russia, will be provided with additional assistance (from NATO)," Usupashvili said. The parliament speaker, who was attending the NATO forum in Brussels, said the alliance is going to help Ukraine to strengthen its military forces and security, and also NATO will deepen relations with its Eastern Partners.