Georgian GDP increased in 2013
By Messenger Staff
Monday, March 24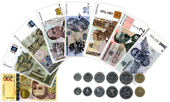 According to the information of GeoStat, GDP in Georgia for 2013 reached 26.8 billion GEL, which is 2.5% more than in 2012.
In 2013, the biggest segment belongs to trade and industry - 17% each, followed by transport and communication – 10%, state governance, agriculture, construction, healthcare and social services.
The biggest breakthrough has been observed in agriculture – 9.8% and the processing industry – 8.4%, followed by real estate operations, financial activities, hotels and restaurants. The construction sector has slowed down.
In 2014 the government expects 5% growth. The International Monetary Fund (IMF) also has made an optimistic forecast suggesting that the country might even achieve more than 5% growth.
Analysts suggest that the Ukrainian crisis might have a negative influence on Georgia's economy.