Georgia starts producing construction materials
By Messenger Staff
Monday, March 24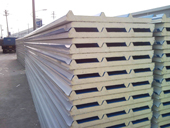 The Georgian Partnership fund and the company ICES have concluded an agreement, which envisages starting production of a special type of construction material called sandwich panels.
So far these very important elements for the construction industry have been imported from Turkey. However, ten months from now, an enterprise will be build locally, which will start producing the sandwich panels.
This production will be cheaper compared to its imported alternatives. The enterprise will be equipped with modern European mostly Italian technology.
The project envisages not only using the production locally, but for export to other countries as well – in particular to Armenia, Azerbaijan, Russia and Kazakhstan.
ICES is a Georgian company. The Partnership Fund owns 48% of the shares, while the rest (52%) is owned by ICES.
The enterprise will be able to produce 2.8 million square meters of sandwich panels annually.