EU to speed-up association membership agreement with Georgia
By Messenger Staff
Monday, March 24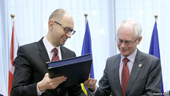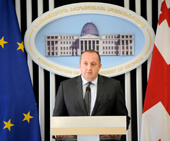 The developments in Ukraine have considerably changed the attitude of the European Union towards post-Soviet states. EU leaders have decided to sign the European association agreement with Georgia and Moldova before June.
Initially, it was planned to sign this agreement before August 2014. Georgia's leadership welcomed this decision. However, with this date fast approaching, certain forces in Georgia who want to distance the country from the West, have become rather active.
Six eastern partnership countries are facing a serious dilemma. On the one hand, the EU offers them to sign the association agreement, while on the other hand, Russia opposes this by offering membership in the Eurasian Union in an effort to integrate these countries around itself.
In November 2013 Moldova and Georgia signed initial agreement with the EU. Ukraine was also invited to sign the main agreement with the EU, but President Victor Yanukovich refused to do so at the very last moment due to harsh pressure from Russia.
As a result, the country has faced a serious civil confrontation for several months, which eventually resulted in the rapid annexation of Ukraine's Crimea territory by Russia. This annexation was done with little regard for international law.
As a response, Ukraine's new leadership and the EU signed the political part of the association membership agreement on March 21. Together with this, the EU leadership announced their decision to sign the association membership agreement with Moldova and Georgia erlier.
Of course this decision was hailed by the Georgian officials. President Giorgi Margvelashvili Foreign Minister, Maia Panjikidze, and others have welcomed the EU decision. Prime Minister, Irakli Gharibashvili, has once again confirmed Georgia's readiness to sign the agreement with the EU.
Many analysts however forecast that the time before signing the agreement and after its signing, will challenge Georgia in different ways. The concern is that Russia, after its successful annexation of Crimea, is ready to take additional aggressive steps.
One scenario is the integration of Georgia's breakaway territories of Abkhazia and South Ossetia with Russia. There is also a serious possibility that pro-Russian forces in Georgia, which have become rather active as of late, can further increase their influence in the country, by discrediting the current Georgian leadership and by organizing subversive actions and obstructing further developments with regard to Georgia's integration with the EU.