Government approves strategy on Human Rights protection
By Ana Robakidze
Monday, April 7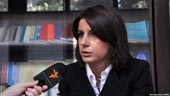 Georgian government approved the National Strategy for the Protection of Human Rights. The strategy defines major priorities to improve the human rights situation in Georgia.
Tamar Chugoshvili, the Prime Ministerís advisor on human rights issues, explained that the strategy includes detailed information and action steps for state institutions to implement during the following seven years.
"It will specify what steps should be taken by various state agencies to ensure that different aspects of human rights will be properly protected. This is particularly important in terms of the protection of personal data. Strengthening the Public Defenderís role towards an anti-discrimination and tolerance policy is an important part of the Strategy. The strategy involves general principles, however, the specific steps will be outlined in the Action Plan," Chugoshvili said.
The strategy was already submitted to the Parliament to be approved, after which the government will adopt a detailed action plan.
"It will include detailed steps to be taken by various government bodies, for the different aspects for the protection of human rights to be met. There are many talks about the creation of new structures and strengthening them," Chugoshvili said.
The Human Rights National Strategy and its action plan were drafted by the Georgian Government with the assistance of the European Union (EU), United Nations Development Program (UNDP) and the Office of the United Nations High Commissioner for Human Rights (OHCHR). The action plan lists priorities for the years 2014 Ė 2020. The document was originally presented to the public in February 2014.
The Prime Minister Irakli Gharibashvili has pointed out many times that human rights protection is a main priority of his government. As he highlighted, the earlier strategy and action plan are only a part of the whole process which the government is going to carry out in order to increase the effectiveness of democratic institutions and mechanisms.