Bad examples of MPs behavior
By Messenger Staff
Monday, April 7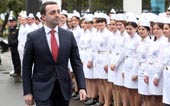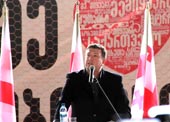 Georgian Parliament is becoming comparable to parliaments of other countries with examples of ill behavior. Unfortunately, the facts of using fists or swearing in Parliament have become frequent in Georgia.
Representatives of the two political opponents Georgian Dream (GD) and the United National Movement (UNM) often organize a show filled with boxing, swearing, throwing bottles into each other and other activities more fit for a sports arena than the table of political power. These actions have a bad influence on the population and encourages similar methods of confrontation in society.
The last case of confrontation in the Parliament took place on April 4th, when UNM representative Giorgi Kandelaki called the Prime Minister Irakli Gharibashvilin "Hakim Pasha". In response, Gela Gelashvili from the GD swore at Kandelaki and the session transitioned into a wrestling match.
Two days earlier, on April 2nd there was another incident that took place between the MPs. On February 19th, Gia Tsagareishvili from GD threw a bottle at a UNM representative, Akaki Bobokhidze. In December 2013, there were used hard words by the MP Soso Jachvliani in the address of Giorgi Baramidze. Similar verbal confrontations are usually accompanied by physical contact as well.
The sides usually accuse the other of initiating the incidents. Unfortunately, Georgian parliament goes in line with examples of similar conduct taking place in other parliaments worldwide.
Annalists suggest that the main factor of such behavior is determined by what the country experienced over the 9 years of UNM leadership, when the ruling party exercised autocratic rule. Now the UNM is in the opposition and is trying to continue its mode of conduct. Since it appears in the minority, the party cannot do so, and receives a similar response from the ruling GD party.
Cohabitation, so intensively advertised by the Western allies, became a very unacceptable term and instead of a peaceful Parliament, there has appeared a room for verbal and physical assaults. We repeat that such a situation gives a very bad example to society, as many may believe that a similar mode of behavior can be acceptable in everyday life. The Parliament has to represent the best layers of a society, but it is not the case in Georgia. Instead of peaceful competition, they give a bad example of confrontation, antagonism and intolerance.