Tbilisi hosts annual NATO Week
By Ana Robakidze
Tuesday, April 8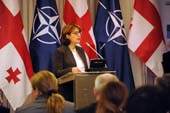 NATO Week was launched in Tbilisi, on April 7th. The main goal of the event is to raise awareness of NATO's integration policy.
The international conference "Way to NATO: Share of Experience of Central and Eastern European Countries" was opened by the State Minister for European and Euro-Atlantic Integration, Alexi Petriashvili, and the NATO Assistant Secretary General for Public Diplomacy, Kolinda Grabar-Kitarovic.
Speaking at the conference, Georgian Foreign Minister Maia Panjikidze said that it is time for Georgia to advance in the integration process with NATO. The Minster believes that the NATO Summit 2014 will be a perfect event to recognize the country's progress and set future steps for Georgia to receive the Membership Action Plan (MAP).
"We highlight the MAP, as the Bucharest Summit decision underscores that MAP should be Georgia's next step for NATO membership. By moving on to this important new level, we will thoroughly continue the step-by step progress." Panjikidze said.
According to Grabar-Kitarovic Georgia is a highly valued partner to NATO and the country will definitely receive the membership as soon as it meets all the necessary standards the alliance has set. Speaking at the joint press conference held after her meeting with Petriashvili, Grabar-Kitarovic said granting NATO membership should depend only on the state's achievements and the decision should not be connected with the situation in other aspirant countries.
"Do not concentrate on the Member Action Plan (MAP) as a signal of imminent success. As you know, MAP is a very important process but I want to stress the fact that Georgia achieved success and it will become a member of NATO," Grabar-Kitarovic said.
The Georgian government has high hopes for NATO week in Georgia. According to the Deputy Foreign Minister, Davit Zalkaniani, the government has a chance to discuss important issues with the NATO partners from Eastern and Central Europe.
"Georgia is facing significant challenges before the NATO Summit in Wales. The member states will be interested to see how we deal with these challenges." Zalkaniani said.
The conference was attended by the Bulgarian Atlantic Club President, former Bulgarian Foreign Minister Solomon Passy, Lithuania's Deputy Minister of Foreign Affairs, the Estonian Deputy Foreign Minister, Georgian Defence Minister Irakli Alasania, the British Ambassador to Georgia, the Polish Ambassador to Georgia and other international officials.
NATO Week in Tbilisi will last until April 16.