Czech Republic, Poland and Hungary celebrated 15th anniversary of NATO membership
Thursday, April 17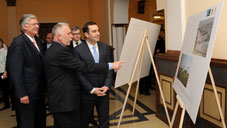 Three nations of North-Atlantic Alliance –Czech Republic, Poland and Hungary celebrated the 15th anniversary of NATO membership. Ministry of Defense has hosted the event in the Cultural-Educational Center. Diplomatic missions of the three countries in Georgia provided an organizational support for this day.
Ambassadors Extraordinary and Plenipotentiary of Czech Republic, Poland and Hungary made opening speeches for the audience. Minister of Defense also addressed the invited guests: "15 years ago these three nations were lucky to become NATO members. Our policy for today is to get prepared for NATO integration. This is the reason why we are providing such a huge contribution for a global security. We are implementing reforms in order to get prepared for a full-fledged membership of NATO. If we want to join the Alliance and EU we must be untied like other countries and communities. In case of separation we will have no future towards Euro-Atlantic integration. This day is another demonstration of unification against our adversary.
Minister of Foreign Affairs also attended the anniversary meeting. Maia Panjikidze addressed the audience and congratulated the foreign ambassadors on the 15th jubilee. Within the event a photo gallery was also held reflecting integration of Czech Republic, Poland and Hungary into NATO, military cooperation with them and participation in peacekeeping missions.
Among the invited guests were State Minister for European and Euro-Atlantic Integration Alex Petriashvili, military servicemen of Georgian Armed Forces as well as representatives of executive and legislative branches of Georgia, Diplomatic Corps, non-governmental organizations and media outlets. Hungary, Poland and Czech Republic joined NATO in March 12 1999 within the forth series of NATO enlargement.