Artillery Training in Vaziani
Thursday, April 17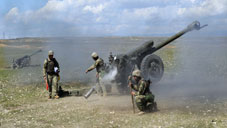 Artillery Training was held in Vaziani firing range. Chief of General Staff of the Georgian Armed Forces, Major-General Vakhtang Kapanadze attended the field trainings.
120 mm D-30 howitzer battalion of the II Infantry Brigade, the two fire support groups of the first and second Infantry Brigades took part in the final phase of the exercise. The participants carried out the artillery support of the infantry troops in defensive position. Artillery systems were used in accordance with NATO standards of fire support. Assessing-controlling teams evaluated the activities of the artillery battalion and infantry fire support groups.
"This is another scheduled training with the use of battalion fire damaging means of artillery battalions. This time we have infantry maneuver units acting in combination with artillery fire. Accordingly, the task of the land troops is to identify the precise aim and coordinates and the artillerists are required to damage the targets. Such trainings are held on a permanent basis. We are doing our best to improve the level of preparedness and gain experience," declared Major-General Kapanadze.
The course started on March 31 with participation of 20 officers from West and East Operative Commands. Training included two phases - theoretical and practical trainings. The final evaluation of the artillery course took place on April 11.