French and German foreign ministers visit Tbilisi
By Ana Robakidze
Friday, April 25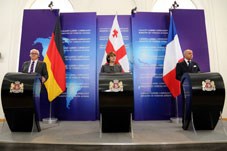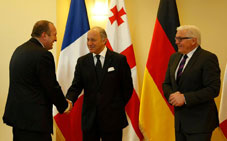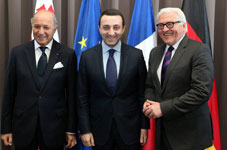 The French and German foreign ministers, Laurent Fabius and Frank-Walter Steinmeier, are visiting Tbilisi as a part of their joint three-nation trip to Georgia, Tunisia, and Moldova.
According to Georgian Deputy Foreign Minister, Davit Zalkaliani, the visit of the foreign ministers has a special importance for Georgia, as the ministers are visiting right ahead of signing the association agreement (AA) and the ministers are willing to study the situation on the ground.
The foreign ministers held meetings with their Georgian counterpart Maia Panjikidze, parliament speaker Davit Usupashvili, as well as with President Giorgi Margvelashvili and Prime Minister Irakli Gharibashvili.
President Margvelashvili discussed the process of integration with NATO and the European Union, the details of signing the AA and its following action plan with his guests. The parties also focused on the recent developments in Ukraine as well as the various ways that Russia might have an influence on regional policy.
Georgia-EU relations were discussed at the meeting between Prime Minister Gharibashvili and the French and German foreign ministers. The guests once again expressed their full support to Georgia. The parties also discussed future bilateral relations. It was announced that the Georgian Prime Minister will visit Germany and meet German Chancellor Angela Merkel in early June, before that French President Francois Hollande will visit Tbilisi in May.
"The purpose of this visit is very simple. We want to once again express our support towards Georgia and especially in this moment. Georgia has already initialed the AA in November of the previous year and in several weeks [the AA] will already be signed. This is already planned for June," Fabius said at the joint press conference held after the ministers' meeting with Panjikidze.
The French Minister praised Georgia for the recent reforms and the progress. He said the AA will be a strong mechanism for Georgia's modernization.
"We are in Georgia on a joint visit for the first time. It is a pleasure to use this opportunity and express our support towards Georgia…I was here years ago, it was a very difficult period, but I remember it nicely. A lot has changed in the country, not only in terms of the interior, but also in political terms. The political spectrum has been renewed, corruption has been defeated…" the German Foreign Minister stated.
According to Minister Panjikidze, she discussed with the ministers not only the process of integration with the EU but also with NATO.
"My counterparts noted Georgia's contribution to Euro-Atlantic security. We deeply believe that Georgia clearly shows progress required from an aspirant country, therefore, we expect that our progress will be appropriately assessed during the NATO summit in Wales," Panjikidze said.
The French and German foreign ministers will continue their trip in Tunisia. Before leaving Tbilisi they met Parliamentary minority leader Davit Bakradze, from the United National Movement party.