UNM aims for success in next month's election
By Ana Robakidze
Monday, May 12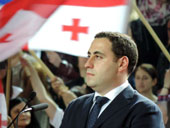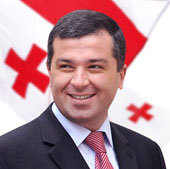 The United National Movement (UNM), Georgia's opposition party, officially launched its election campaign by holding its first indoor campaign rally on May 8th.
The event was opened by MP Giorgi Vashadze. In his welcome speech, Vashadze focused on the success of his party and said that it was the UNM that paved Georgia's way towards Europe. The MP said that the Georgian Dream has failed and the country is left with suspended infrastructure projects and economic stagnation. According to Vashadze, Georgia needs to be set back in motion and the UNM is the only party capable of it.
"The only alternative to the Georgian Dream is the National Movement," Vashadze stated, and called on his colleagues not to step back.
The same message was sent to delegates by MP David Bakradze. He urged the UNM candidates in the self-government elections to make all efforts, and to win the elections in June. Bakradze is sure his party will be back to power after the elections, as the party has "experience in building the state" and is capable of learning from its mistakes.
Bakradze called the government to introduce amendments in the law and lower income tax to 15%, to scrap the excise tax on fuel and also announce a five-year moratorium on imposing new economic regulations. UNM members believe the decriminalization of economic crimes is necessary to strengthen the trust between government and business.
The MP is sure if the government does not take the necessary steps to lower taxes, the UNM will do it as soon as it comes back to power.
The also UNM promises the citizens that it will lower taxes on gasoline and gas in the first phase by 0.25 GEL and to make public transport comfortable and affordable.
Tbilisi Mayoral candidate, Nika Melia also addressed the delegates and said that citizens will not give support to a party in a third consecutive election, which failed to fulfill its duty. Therefore, Melia is sure he and his party will win the elections.
"This will be an election in which voters, regardless of their political views, will make pragmatic, rational choices," the UNM candidate stated. Melia said he is ready to challenge his major rival Georgian Dream candidate David Narmania in the election and hold TV debates with him.