Georgia spends 2.3 million USD lobbying itself
By Messenger Staff
Monday, May 19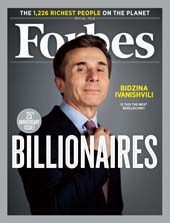 The Sunlight Foundation published information on how much Georgia has spent to establish relations with the American media, various federal authorities and US Congressional representatives.
In 2013, Georgia spent money for lobbying companies such as the Harbour Group LLC, and Patton Boggs LLP, HDMK.
The former Prime Minister of Georgia Bidzina Ivanishvili has also contributed more than 1 million USD to lobbyist services.
The Sunlight Foundation published the list of the countries, which spent money to lobby their interests.
The United Arab Emirates is first on the list with 14.2 million USD, then comes Germany at 12 million USD, then Canada – 11.2 million USD, Saudi Arabia – 11.1 million USD, Mexico – 6.1 million USD, Morocco – 4 million USD, South Korea – 3.9 Million USD, Serbia – 2.4 million USD and Azerbaijan – 2.3 million USD.