PM offers to develop unified system of remuneration for officials
By Ana Robakidze
Tuesday, May 20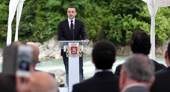 Georgian Prime Minister Irakli Gharibashvili asked his cabinet to develop a common rule for remuneration and bonuses for state officials. The PM's initiative was voiced by the Deputy Head of the Chancellery of the Government, Nino Kobakhidze on May 19th.
Kobakhidze said at the pre-conference that the PM considered changes in the state officials' remuneration based on high social interest.
"Our country should have a system once and for all that will regulate salaries and bonuses for public officials. This must be a transparent system so that no citizen of our country should have a question without an answer. The system must be standardized, though it should consider the specifics of hard and great risk-related activities. I know that working on this issue has already started and the first stage has already been done successfully. That is why this process should be completed as soon as possible," Gharibashvili said.
According to Gharibashvili's press centre, the PM has already instructed the Head of the Chancellery, Maia Tskitishvili, Deputy Head, Nino Kobakhidze and the Head of the Public Service Bureau, Ekaterine Kardava, to submit the structure of salaries and remunerations. The new system should be flexible, comply with European standards and be based on the principle of fair distribution. The first draft of the common rule for remuneration and bonuses should be prepared by the end of June, 2014.
Gharibashvili first discussed his government at the cabinet meeting on May 16th. The topic was raised after the unjustified high remuneration and bonuses of the officials in the Ministry of Corrections and Legal Assistance of Georgia became an issue of public criticism. The cabinet has not yet considered raising the issue of the Minster Sozar Subari's dismissal. However, the cabinet members agreed on the PM's initiative on developing a common rule for remuneration and bonuses for state officials.