Defence Minister of Georgia Meets with Greek Counterpart
Thursday, June 5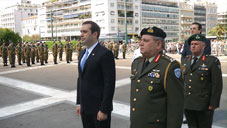 The Defence Minister of Georgia paid an official visit to the Hellenic Republic. Minister of Hellenic National Defence, Dimitris Avramopoulos hosted Georgian counterpart Irakli Alasania. Chief of Hellenic National Defence General Staff, General Michail Kostarakos attended the meeting as well.
The official welcoming ceremony was held at the National Defence Ministry of the Hellenic Republic. At the meeting the Ministers talked about the prospects of bilateral cooperation in defence sphere between Georgia and Greece. Sharing experience in education and logistics, cooperation in military-technical field were emphasized as well.
Georgia's Euro-Atlantic membership was discussed at the meeting. Georgia's contribution in ISAF international operations and engagement in Resolute Support mission beyond 2014 were main topics of the discussion. Irakli Alasania delivered information to the host side about deploying one light infantry company in the EU-led operation in the Central African Republic. The sides also referred to the regional security issues.
Irakli Alasania expressed gratitude to his Greek counterpart for supporting Georgia's Euro-Atlantic aspirations and Georgia's sovereignty and territorial integrity. Defence Minister of Georgia highlighted contribution of the Greek observers in the EUMM.
"We are developing our relations with the Hellenic Republic in the various directions. The Hellenic Republic strongly supports Georgia on its path to the Euro-Atlantic aspiration. Today we have agreed and concluded bilateral cooperation plan. The document is an essential basis for developing relations in defence capabilities and military educational sphere. In the future our relations will be improved as politically as well as in military educational directions. I would also like to underline the meeting with the President of the Hellenic Parliament and Ministers of Defence and Foreign Affairs. The dynamic of bilateral cooperation will be very intensive", stated Defence Minister of Georgia.
After the meeting, military cooperation plan of 2014 between the Ministries of Georgia and the Hellenic Republic was signed.
Defence Minister of Georgia also held meeting with President of the Hellenic Parliament, Evangelos Meimarakis and Deputy Prime Minister and Minister of Foreign Affairs, Evangelos Venezelos. Irakli Alasania participated in the wreath laying ceremony of the "Unknown Soldier Monument" as well.